June 21, 2008
I got this recipe from a real Rancher I knew once. His parents ran a ranch and in the Summer they hired a gazillion Ranch hands to "run" the cattle. This recipe has been cut down by about 10 times, since Toby's mom made it for about 25 starving ranch-men. It has been a staple in our family ever since I got it. Thanks Toby!

Ingredients
1-2 lbs. ground beef
1/2 c. chopped onion
1 can pinto beans
1 can black beans
1 qt. tomato juice
1 pkg. taco seasoning
salt/pepper

optional additions
2 c. frozen corn
1 can diced tomatoes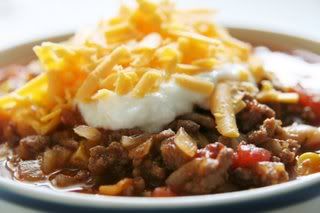 Directions
- In a large pot brown meat and onions, drain if needed.
- add taco seasoning packet. Stir to coat beef mixture.
- Dump in remaining ingredients.
- Bring to boil. Leave at hard boil for 30 minutes, uncovered.
- salt and pepper to taste.
- to serve top with shredded cheddar cheese, black olives,sour cream, green onions and taco chips.



To Freeze
- portion out individual servings by spooning soup into ziplock disposable bowls. DO NOT COVER with lids. Place on cookie sheet and flash freeze in freezer for 4 hours. Write "Taco Soup" on lids with permanent marker adding a green sticker. Cover with lids. stack in freezer.


To Reheat
From frozen: Open one edge of lid to vent. cook in microwave on high for 2 minutes. Stir. Continue cooking in two minute intervals (stirring in between) until desired temperature. Add toppings or eat plain.