June 26, 2008
This is a great recipe to start off your freezing with. It's easy, cheap and the kids just LOVE 'em! And I do too.

Start out with making standard pancake mix. I usually triple the batch amount. My kids really love these. Use whichever mix or recipe you like. Whole Wheat, vegan, whatever. My favorite is Krusteaz. Just add water? Perfect!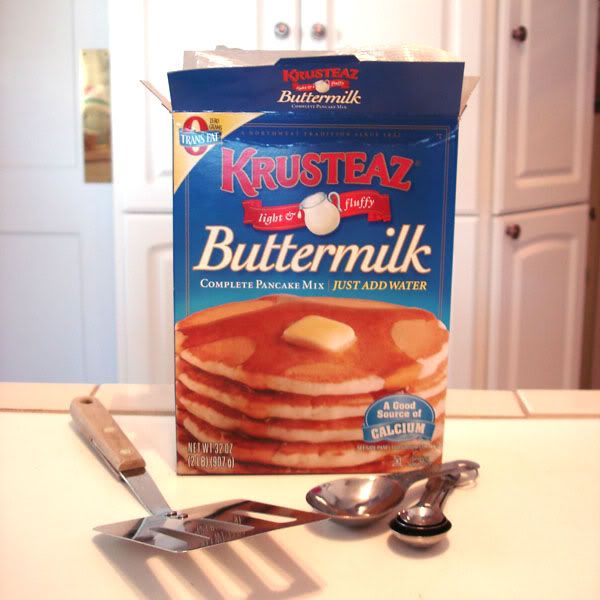 You'll also need a cookie sheet, measuring spoons and a
silpat

mat
. Heat your griddle to 350* or a frying pan to medium/high. To make mini pancakes just scoop out circles, 1 Tbsp at a time. When I do this on a griddle I leave one row open so I can flip more easily.
By the time you have scooped out an entire griddles worth, the first rows should be about ready to flip. Flip them when most of the surface is covered with bubbles.
Then line remove them from griddle and place them straight onto a cookie sheet lined with a
Silpat
. You may place them close together. Continue making mini pancakes and piling them on until all of your mix is used up...adding additional layers on your baking sheet.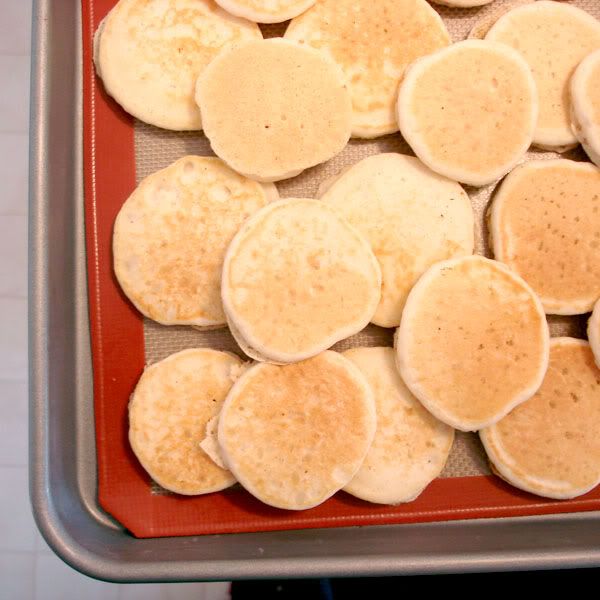 Place baking sheet into the freezer (uncovered) to flash freeze for 1 hour.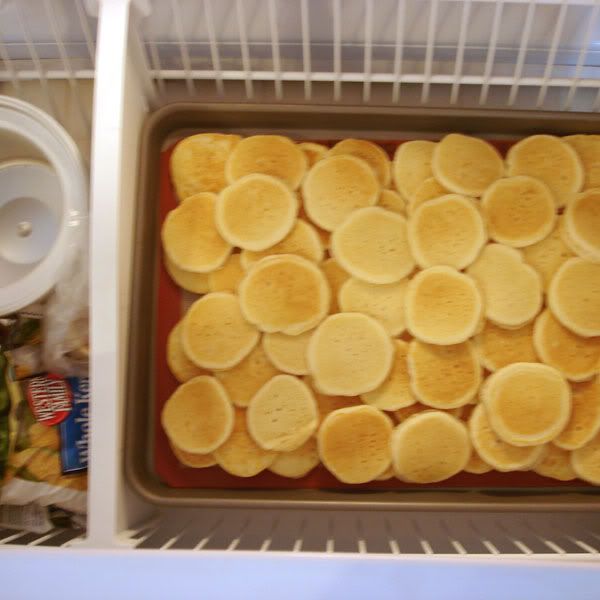 Remove from freezer and place mini pancakes into a gallon size freezer bag, label and store.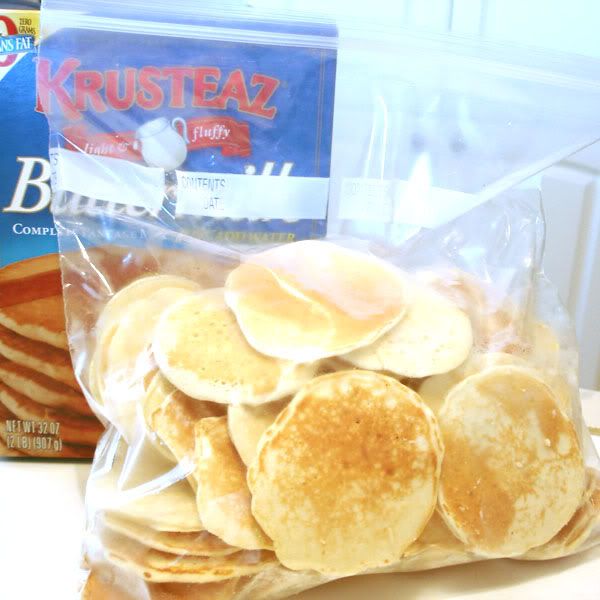 To reheat:

Place desired amount of pancakes in one layer on a microwave safe plate or a paper towel. Cook for 5 second
increments
, checking for warmth after each 5 seconds until all are warmed through.
I like to serve these with two little bowls for kids to dip in. One of
maple
syrup and one with raspberry jam. We have also taken these on the road with our kids and made a little sandwich out of two pancakes with a bit of sugar free jam in the middle. Delicious!
Our friend Bradley, enjoying the dipping.
Note:
You can totally make these into "adult size" pancakes and flash freeze them just
the
same way. Store in a
ziplock
bag with pieces of wax paper in between each pancake. But seriously...why would you when the mini pancakes are so cute?