November 28, 2008
Thanksgiving is here and that means food, football and leftovers. Each year after Thanksgiving we make Kentucky Hotbrowns with some of our leftovers, but inevitably, we're still eating leftovers a week later. Now you can make those leftovers into a quick, easy and yummy freezer meal that combines all of the goodness of Thanksgiving dinner, but you can eat it after the Holidays!


Thanksgiving Casserole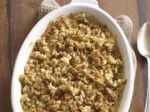 3 c. diced turkey meat
1 can cream of mushroom soup
1/3 c. sour cream
1/2 c. diced onions
1 tsp. minced garlic
1/3 c. frozen peas (unthawed)

3 c. prepared stuffing
(or 1 box prepared Chicken StoveTop stuffing)



To prepare:
- Combine all ingredients except stuffing.
- Place in 8x8" disposable aluminum pan.
- Top with stuffing
- Label and seal with aluminum foil.


To cook:
- Thaw in refridgerator for 24 hours.
- Remove foil and bake at 350* for 35-45 minutes until bubbly.