October 9, 2008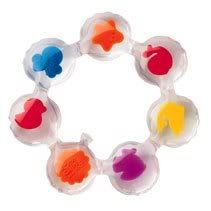 Yes, Freezer Friends....I am currently working on a bunch of new recipes to post here in the near future, but for right now I have a secret to share with you!
Neither of my girls would ever touch a teething ring. I'm not sure why, but they seemed to avoid those things like the plague. I watched them chew and gnaw on every other toy in sight, but the minute I handed them a teether they refused to put it in their mouth.
Remember our
Freeze Happy mini pancakes
? They are delightful to eat, but they are also a perfect baby teether. These mini pancakes taken straight from the freezer are great. My youngest has chewed them while teething when nothing else worked!
So Mommies with teething babies...give this a try!