July 30, 2008
Here it is.
The moment you've all been waiting for.
The moment you'll thank me for.
The greatest freeze ahead tip evah!
Chocolate Chip Cookie Dough.

It's true. Mommies of the world rejoice! You have the capability to freeze huge amounts of balls of frozen cookie dough and cook them up whenever you want, straight from freezer to oven, in less than 10 minutes. Do you see the genius here? Mom I need 4 dozen cookies for Boy Scouts? No problem. Mom, Janie is coming over after school and we just want a little snack. Sure thing. I've had a crappy day. All I want are 3 fresh baked cookies. They're yours.

Let's get started. Here's my recipe for freezer chocolate chip cookies.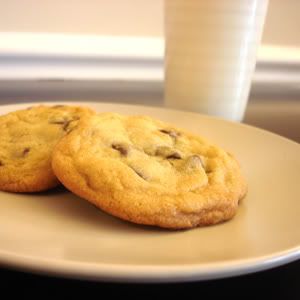 Chocolate Chip Cookies
(makes 6-7 dozen)

Beat together:
1 c. butter
1 c. butter flavored shortening
1 c. white sugar
1&1/2 c. lt. brown sugar

Add:
3 eggs
1 T. vanilla

Sift into a large bowl:
4 c. flour
2 tsp. baking soda
1&1/2 tsp. salt

- Add wet ingredients to flour mixture and combine with wooden spoon. Add 2 bags chocolate chips. Mix.

To freeze:
- Use a cookie scoop to scoop out evenly sized balls of dough. Place them about 1/2" apart on a silpat lined baking sheet.




- Use your fingers to slightly flatten balls of dough.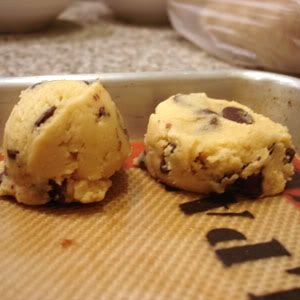 - Place filled cookie sheet, uncovered, in freezer for 2-3 hours or until balls are frozen. Do not leave in for more than 3 hours.




- Remove from cookie sheet and place in a gallon size Ziplock bag. Label and store in freezer.




To cook from frozen:
- remove as many dough balls as you want to bake and place 12 on a cookie sheet.
- Bake at 350* for 8-10 minutes.
- As soon as you remove them from the oven, hold the cookie sheet 4 inches above the floor (or counter if you have heat safe countertops) and drop the sheet. This releases excess air in the cookies and makes them more moist and chewy. (that's a baker's trick I learned when working in a professional bakery when I was 19 years old)
- Let cool on rack and devour like a crazy person. Yum!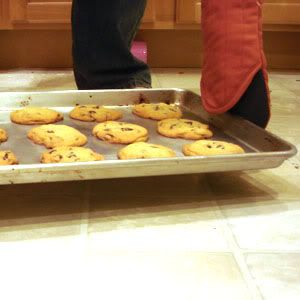 Note: Don't want to use my recipe? Have your own family favorite that everyone loves? Don't worry...I won't be offended. You can freeze your own recipe with minimal changes. The only thing you may want to amend is increasing the flour slightly. Try freezing one dozen as a test first and see if they remain as firm as you like them even after baking. If not, add 1/4 c. of flour next time and see if that does the trick.

You'll soon be the most popular Mom in the PTA. Guarantee it.
Now, this is a recipe that can make you Freeze Happy!