April 12, 2010
I've shared Everyday Foods' Lasagna Primavera and my own Manicotti recipe, but sometimes there is just nothing like a classic. This recipe is my go-to recipe for good old, beefy, cheesy noodly lasagna.

After many a failed/bland/watery lasagna recipes I finally perfected this one which has everything we want in a lasagna. We like the cheesiness of ricotta, but dislike the pasty texture, so we use half ricotta and half cottage cheese. This gives a smooth texture and is less expensive. This recipe also has the perfect blend of seasoning and spices in the cream mixture, which would otherwise be much too bland.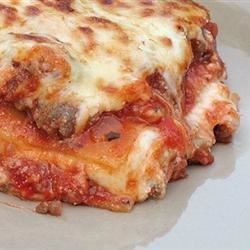 EMILIE'S CLASSIC MEAT LASAGNA

15 oz. container ricotta cheese
16 oz. container cottage cheese
3 c shredded mozzarella cheese
1 c grated Parmesan cheese
2 eggs
1 tsp salt
2 tsp dried parsley
1 tsp dried basil
1/4 tsp black pepper
1&1/2 pounds ground beef
3 cloves of minced garlic
1/2 c. diced onion
2 jars Marinara Sauce (find a brand that does not appear too watery in the jar...the thicker the better)
16 flat lasagna noodles

1 aluminum 9x13" or larger baking pan

To Prepare
- Bring large pot of water to a boil (I hate the gummy texture of the no boil kind, but you can go for it if you want to). Cook lasagna noodles for 6-7 minutes. When ready to layer lasagna, take noodles out one at a time with tongs.
- In a large bowl combine ricotta cheese, cottage cheese, 1 c. mozzarella cheese, 1/2 c. of shredded Parmesan Cheese, salt, dried parsley, dried basil, black pepper and eggs.
- Cook beef in medium-large sized pot with onion and garlic until browned. Pour off fat. Stir in pasta sauce.
- In baking pan, assemble layers as follows...lasagna noodles, a third of the ricotta cheese mixture, then a third of the meat sauce mixture. Repeat layers. Finish with lasagna noodles and sauce.

To Freeze
- Wrap uncooked lasagna in plastic and then foil and store in freezer.

To Serve
- Thaw completely in refrigerator for 24 hours prior to cooking.
- Bake, covered in foil, at 400* for 30 minutes or until hot in the center. Add remaining cheese and bake 10 more minutes. Let rest 15-20 min.