July 13, 2009
Whew!
Sorry I took a little Summer hiatus.
We had family visiting in town as well as my college roommate and
our lives have been a whirlwind of fun, family and fireworks.
We are also preparing for our pending move into Amish country in PA.
Hopefully I can get some posts written ahead of time so I won't be absent from
this blog during the move.

Now back to our regularly scheduled programming....

Many people don't realize you can freeze eggs for later use.
But why would you want to freeze eggs?

- You bought too many eggs and they are close to expiring.

- You made a recipe using just egg whites or just egg yolks and don't want to waste the remainder.

- You live far from a grocery store and want to have eggs on hand in case of emergency.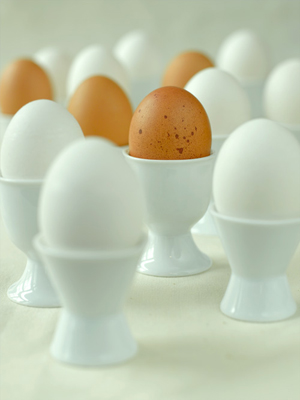 To freeze eggs:

- Crack the egg and beat until just blended, then freeze individually or together.

- Muffin tins work well to freeze them individually, then pop them out and store in a ziploc bag once frozen.

- To use, simply thaw in refrigerator.

- If you froze them together, about 2 tablespoons of the slightly blended egg mixture will equal about one large egg.


*Note: The USDA says you can NOT freeze eggs in the shell.