September 25, 2008
Did you know you can freeze pie crust? It's true and it's a very helpful time saver. You can make your own recipe for pie crust and simply wrap it tightly in plastic wrap and seal into a ziplock bag. Defrost for 24 hours before using.

If you're not a pastry master, you can buy refrigerated pie crust and throw it straight into the freezer. When you're ready to use one thaw in refrigerator for 24 hours or simply take out of freezer and leave on counter top at room temperature until thawed. 1-2 hours.

So what can you make with a simple pie crust?
Lots of things.
But my favorite is quiche.

Emilie's Quiche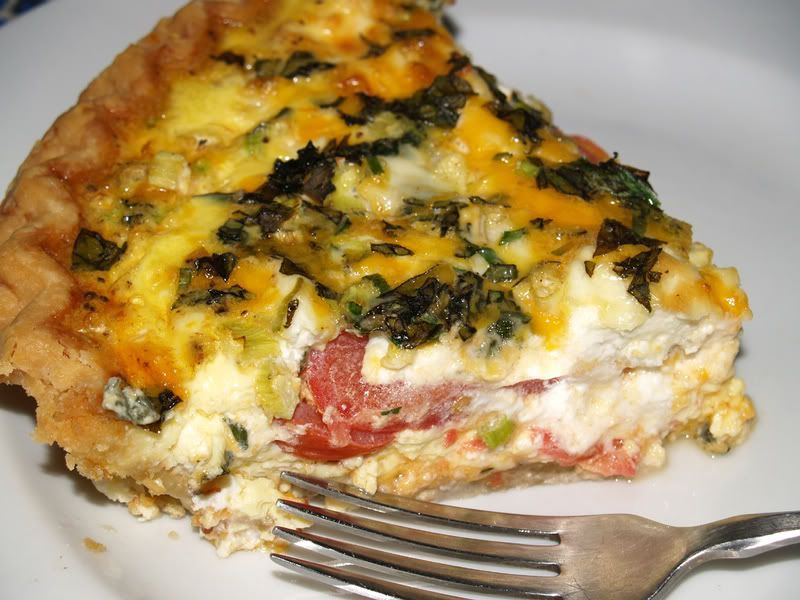 1 unbaked pie crust

wet ingredients
5 eggs
2 c. whole milk
1 T flour
½ tsp. salt
½ tsp. pepper
¼ tsp. dry mustard
1 tsp. Worcester sauce (omit for vegetarian version)
1 clove minced garlic
1 T dried parsley flakes

other ingredients
(this is the part where you can really add anything you want. cooked broccoli, cooked bacon, any kind of cheese, green peppers, diced tomatoes...anything!)

½ c. chopped green onion
½ c. mushrooms
1 c. frozen spinach
3 c. shredded sharp cheddar cheese
1 c. ham (or omit for a vegetarian quiche)

directions
-Roll out pie crust into pie plate (if you have a quiche pan...even better).
-Prick shell with fork and bake @ 400 for 15 minutes.
-Put ½ cheese in bottom of crust.
-Add remaining ingredients in layers in the bottom of the crust.
-Combine wet ingredients and pour gently into crust.
-Top with remaining cheese.

-Bake @ 350* for 50 min. Allow to cool for around 15-20 minutes so it sets up.